Calvin Length
Talk

0
1,150pages on
this wiki
This article was written by Aquamanfan2000. Please do not add to this fiction without the writer's permission.
Calvin Length
Hero
Affiliation
Hero Factory
Weapons
Energized Sniper Rifle
Status
Deceased
Location
"Sniper Dojo", Hero Factory, Makuhero City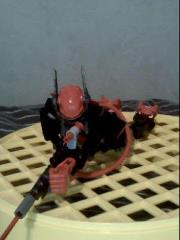 Calvin Length was a quiet, mild mannered Hero with quite the personality. He was built in the Assembly Tower.
Biography
Edit
Calvin Length was a hero with a gruff, no-nonsense attitude. He is known for not talking much. He was the Sniper on Edward Gunner's team.
Later Years
Edit
Length retired and trained rookie Heroes in the "Sniper Dojo" at the Hero Factory. He resided in his Dojo and voiced Sensei Wu in Lego Ninjago. He was on call for the rest of his life though, just in case villains attacked again.
Length was pronounced dead at 5:27 on November 2nd,2011. He died of a Hero Core malfunction. Length was replaced by his son Simon Length.
Abilities and Traits
Edit
Length was created to be the city's first super soldier hero. He is an expert at Tae-Kwon-Do and long-range Sniping. He was trained by William Furno, who is an expert on stealth missions. Length is one of the fiercest Heroes around. He is a former Recon Agent. Along with a sober Fire Lord, his team leader was able to defeat Johnny Bomber. He has a son named Simon.
Appearance
Edit
Length was a tall, light armored Hero with red, black, silver, and silverish/grayish armor. He had a green head and a green core. Length also had the famous Recon chest plate and a red Ice Shield on his back.
Length had a special custom made Sniper Rifle with a tube going from his gun to his Ice shield on his back.
Length is one of the only Heroes to deny the 3.0 upgrade.
Length was on Edward Gunner's elite team.