This article was written by Povak. Please do not add to this fiction without the writer's permission.
This article was written by Aktan. Please do not add to this fiction without the writer's permission.
Crisis
Organization
Headquarters
Unknown
Leader
Fastdrive
Goal
To destroy all enemies
Status
Active
Allies
None
Enemies
Hero Factory, Shadow Titans, Tarix Factory, Nano Army

Crisis is a group of rogue mercenaries that seperated from the Shadow Titans and the Tarix Factory. Many mercenaries that formerly worked for the Shadow Titans joined under Fastdrive's leadership, and they have launched a unknown operation. 
Members
Minions
Foot Soldiers
Foot Soldiers are modified Aquagon bodies with a special "super" brain on top. They are armed with a Aquagon double blade and they are skillful troops led under Fastdrive and Scorpian Lord. They are not allowed to interact with any instance of trancidium.  They're also very agile.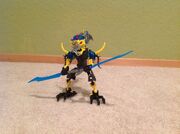 (Out of 10)
| | | |
| --- | --- | --- |
| Strength: | 3 | |
| Agility: | 6 | |
| Toughness: | 4 | |
| Mind: | 5 | |
Berserkers
Standard
TBA
Captain
History
TBA
Trivia
They use brainified troops because of Fastdrive's ability to control non-trancidium brains.
Ad blocker interference detected!
Wikia is a free-to-use site that makes money from advertising. We have a modified experience for viewers using ad blockers

Wikia is not accessible if you've made further modifications. Remove the custom ad blocker rule(s) and the page will load as expected.