This article was written by DeltaStriker. Please do not add to this fiction without the writer's permission.
Fred Swift
Information
Affiliation
Tools

Shield, Typhoon Sword, Special Jetpacks

Status

Deceased

Location
"Swift is impulsive, he probably ran in the other direction"
―Thresher in From the Shadows
History
Fred Swift was a 1.0 Hero who was updated to 4.0 for the Breakout.
Breakout
Swift was assigned to recapture the villian Meltdown, and he suceeded. He returned to Hero Factory with the villian and was imediatly called to Mission Control for an important mission.
From the Shadows
That mission was to track down Core Hunter, who had remained in Makuhero City. He arrived with his Team, consisting of Kirk Thresher and Sandra Flash. They began to search the premises, but Swift went out alone.
He tracked down Core Hunter by asking around his contacts in the Black Market. His information led him to an old factory on the edge of town. There he was brutally murdered by Core Hunter.
Equipment
1.0 Form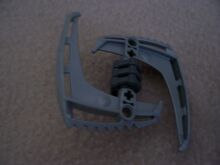 Swift carried a Typhoon Sword and a Shield. He wore special Jetpacks on his back.
Personality
Swift is impulsive. He will do whatever he feels is right, a trait that brought about his death.
Appearences
Gallery