Jack Reacher
Talk

11
1,150pages on
this wiki
This article was written by BobTheDoctor27. Please do not add to this fiction without the writer's permission.
"Just because nobody's complained yet doesn't mean Hero Pod landings are crash-proof."
―Reacher talking to himself, having just crashed his Hero Pod on Orcus, Dance in the Flames
Primary Form




Affliction
Hero Factory
Colors
Black and Blue
Team
None
Weapons
Location
Orcus
Status
Active
Jack Reacher was a senior Hero Factory agent who patrolled war zones in deep space.
Like all other Heroes, Jack Reacher came into being in the Assembly Tower in Makuhero City. However, Reacher was then dispatched to a hostile region of deep space as a rookie in order to be trained in the battle. The rookie adapted quickly and became one of the Hero Factory's leading heroes for his efforts in various war zones. He swiftly gained an elite status and became an unrivalled leader of a small group of other veteran heroes.
Corellia System
Edit
Towards the end of his career, Reacher led his group to victory against an unnamed tyrant who declared war on the Hero Factory following the damage that a previous hero team had done to his planet - the unnamed fourth planet in the Corellia System - in the process of saving his world. Reacher and his team swiftly defeated this criminal and performed an execution prior to returning to their Hero Craft.
However, the group was ambushed when the planet's army learnt of their presence and surrounded them before they could return to their vehicle. Reacher managed to fight his way through a number of troops and succeeded in rescuing another member of the team - Joshua Breach. The two heroes witnessed the rest of their team being brutally murdered before escaping the planet.
However, the planet's government then authorized a missile strike on the Hero Craft. When Reacher and Breach learnt of the threat they utilized the ship's escape pods to flee the doomed transporter. Reacher ordered Breach to take the first escape pod then waited for his own one. However, because he did this, his escape pod was damaged by the explosion of the Craft as the missile struck it. Quickly running out of fuel and oxygen, Reacher was forced to make a crash landing on the next nearest planet in the Corellia solar system, the frozen world of Orcus.
Upon entering the planet's upper atmosphere, Reacher's Hero Craft began to malfunction and was drawn towards Orcus' equator. Upon the impact, the Craft was further damaged and the fuel cell was cut, causing the cockpit to fill with hydraulic fluid. Convinced that he would die anyway and that he would live slightly longer out in the cold, Reacher decided to exit the crashed Hero Pod before the hydraulic fluid ignited. Fortunately, he was able to bring a sensor with him, allowing him to navigate towards any life readings he found. Shortly after exiting, however, the Hero Craft exploded, narrowly allowing Reacher to escape with his life.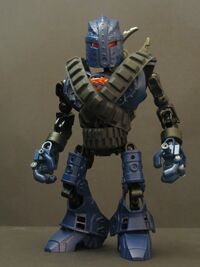 Desperately seeking shelter, Reacher was able to pick up a faint life reading in the distance and began walking towards it. When he reached a rock plateau, however, he gave up hope, convinced that the reading was a glitch. Ironically, he then walked into a fallen hero named Patrick Gust who, unknown to Reacher, had been paralyzed by the effects of Bonecrusher's Meteor Blaster.
However, before he could aid the injured rookie, Reacher was ambushed by Bonecrusher. Although he originally mistook the Aurosian for a savage animal native to the planet, the hero was soon able to overpower his attacker in spite of being disarmed, puncturing one of his assailant's eyes in the process and nearly strangling him to death. Unfortunately for Reacher, Bonecrusher was able to fight him off and critically damaged his Hero Core before leaving him for dead in the ice.
Abilities and Traits
Edit
Reacher has the uncanny ability to know what time it is, at any time of the day, without referring to a clock. He often uses his internal clock as an alarm, enabling him to wake up at any time he chooses.
Reacher is highly skilled in fighting, enhanced by in-depth technical and military knowledge. He has experience and skills from various martial arts, although he is not an expert in any particular style, though he has stated that he is self-trained in dirty fighting as well as the legitimate combat maneuvers taught to heroes as standard procedure. Reacher's favorite techniques include elbow strikes, uppercuts, and headbutts. His experience, skills, knowledge and strength aid him in fighting, as he is sometimes stronger than his opponents but often matched with similar or larger enemies.
A common element of Reacher's combat expertise is his extensive knowledge of weaponry and calculated use of brutality when necessary. Reacher's use of violence is emotionless and matter-of-fact; his feelings towards his opponents are almost always impersonal. Furthermore, Reacher is always aware of his surroundings and often sits with his back to the wall, so that he can see those entering a room so he cannot be attacked from behind.
In addition, Reacher is exceptionally strong but is an ineffective runner, though his strength is combined with his savant intellect and military training, analyzing his environment and opponents at extremely high processing speeds.
Personality
Edit
Reacher's demeanor is stoic, and he does not talk much. He has a propensity for saying "that's for damn sure". Reacher frequently does not answer when people make statements or ask questions, nodding or shrugging, preferring the other party to fill the silence. He is cool-headed and rarely becomes visibly angry.
He generally likes to be alone, and is believed to have mild agoraphobia, stating that this condition is not, as commonly assumed, a fear of open spaces, but of crowds.
| | | |
| --- | --- | --- |
| Strength: | 10 | |
| Agility: | 9 | |
| Toughness: | 11 | |
| Mind: | 10 | |
Appearances
Edit