This article was written by BobTheDoctor27. Please do not add to this fiction without the writer's permission.
Jay Ratchet

Jay Ratchet
Affiliation
Tools

Unknown

Status

Active

Location

Unknown

Jay Ratchet was a particularly mature hero who specialized as a spy. He was an elite member of the Delta Team.
History
Creation
Like all other Heroes, Jay Ratchet came into being in the Assembly Tower in Makuhero City. Following his activation he was integrated into the Delta Team, where he would receive training from the Elite members of the group. Some time after this, however, Patrick Gust was also integrated into the team. By this stage, Ratchet was already a fairly experienced rookie.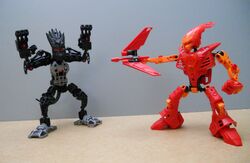 Approximately three years ago, the Hero Factory received a false distress call from the Maldovarium bar, claiming that the sender was being held hostage by a villain named Bonecrusher. Consequently, a number of hero teams were dispatched to the bar, Ratchet being one of the agents on this mission.
Ratchet left his team's Dropship and was partnered with Fredrick Nova for the mission. The two heroes then proceeded to raid the Maldovarium with their team mates.
However, upon finding Scratch - the owner of the facility - the two heroes were ambushed by Bonecrusher, who had used the distress call to allow him to escape. The Aurosian managed to critically injure Fredrick Nova and landed a blow to Ratchet's left arm, severely damaging it, before making an escape.
However, despite Ratchet's injury and the palatalization of his team mate, Ratchet was able to think tactically and formulate a plan, adopting one of Clank's most important teachings; the rule that "no hero gets left behind." Using the morals that he had been taught, Ratchet was able to carry his injured team mate to safety and to capture the notorious black marketer known as Scratch. Because of this, Ratchet was rewarded for his bravery with an upgrade to Elite Hero status, which he specifically thanked Clank for helping him to earn. the rookie managed to carry Nova to safety and to successfully capture Scratch.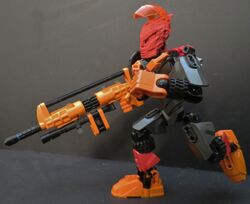 Ratchet was credited for his brave actions on this mission in spite of Bonecrusher's escape.
Elite Hero Status
Due to his courage displayed during the Maldovarium operation, Ratchet was rewarded with an upgrade to Elite Hero status, which he specifically thanked Clank for helping him to earn.
To Be Added
Quotes
"To the shuttle hanger. If you step as much as a meter out of line then I'll blast you a hole in the neck: it's the latest thing"
―Ratchet threatening Scratch, Allies of the Night
Forms
| Picture | Form |
| --- | --- |
| | Ratchet's original form |
| | Ratchet's 2.0 form |
| | Ratchet's BRAIN ATTACK Form |
Appearances
See Also