Payton Blaze was created to combat the Fiends. She, along with her fellow Omega Team X members were sent to battle the Fiends right after they were created. She is equipped with a Blazing Solar Staff and is the most athletic out of all the Omega Team X members. She has a special bond with Ethan Storm, who considers her as a younger sister. They maintain a strong relationship that was evern stronger when Evan Storm, Ethan's brother preished, saving Omega Team X. She is the most playful and everyone looks after her. She is one very playful Hero.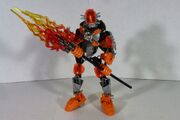 Ad blocker interference detected!
Wikia is a free-to-use site that makes money from advertising. We have a modified experience for viewers using ad blockers

Wikia is not accessible if you've made further modifications. Remove the custom ad blocker rule(s) and the page will load as expected.