Rick Bladerunner
Talk

0
1,149pages on
this wiki

This article is in great danger of being deleted because it is so painful to look at, like that toe stub. Help expand it by checking the Manual of Style. This article has 3 days to live.
---
Rick Bladerunneris a special hero with elemental powers.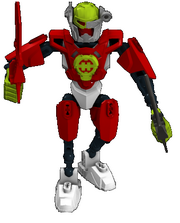 Biography
Edit
Rick "Bladerunner" fights off enemies with his twin elemental blades. One is fire, which summons a ball of fire to devastate anything in his way. The other is earth, which summons massive earthquakes. He is on the team Altra7B and is very strong. He is also quite agile and quick to get around. His color scheme consists of red, green and white. Each one of his elemental blades has different effects of how to use them.
Hero Recon web-page:
http://herorecon.lego.com/en-us/gallery/view-my-hero-gallery/?hid=07cd6eff-f1b8-11e0-a9fe-e61f1328f1df