Tom Knight
Talk

0
1,151pages on
this wiki
This article was written by BobTheDoctor27. Please do not add to this fiction without the writer's permission.
"We're being sent to liberate a prisoner of war camp in the Outer Rim. For the safety of the prisoners it has to be fast. Real fast."
"How fast is real fast?"
"Put it this way... we don't get parachutes"
―Knight briefing Scott Trooper before a mission.
Tom Knight
Elite
Affiliation
Delta 4
Weapons
Twin Dual Blades
Status
Presumed Inactive
Location
Makuhero City

Tom Knight was a veteran Hero who served as the former leader of the Delta 4 Hero team until his destruction.
Like all other Heroes, Tom Knight came into being in the Assembly Tower in Makuhero City, some time before the creation of Scott Trooper. The rookie trained until the point where he became an experienced member of the Delta 4 Hero team and gained the "Elite" Hero status.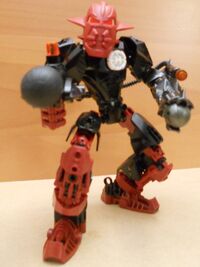 At some point in the past, Knight became the most experienced member of this team and was appointed the leader of Delta 4.
Inactivity
Edit
Several decades ago however, Knight led the Delta 4 team on a mission to confront a rebellious band of villains. However, the group was swiftly outnumbered, causing them to be defeated and consequently killed by a group of villains. Knight, however, was critically wounded but was able to return to the Hero Factory Assembly Tower in the group's Dropship. When the vehicle crashed in the outskirts of Makuhero City, he was rumored to have been killed. However, he was fortunate enough to be transported to the Assembly Tower in secret, where he was held in stasis while repairs were made to his system.
While Knight's injuries rendered him inactive, his consciousness was still salvageable, prompting him to be moved to a classified medical division, where a number of medics worked on restoring his body.
Personality
Edit
When driven by anger or justice, Tom Knight would act without hesitation to strike down those who oppose him, capable of fighting to the bitter end and taking down more than his fair share of enemies. However, he does have one fatal flaw: Himself.
Knight's unwavering sense of self-hatred caused him to often charge headstrong into conflicts and overwhelm an opponent rather than thinking tactically.
| | | |
| --- | --- | --- |
| Strength: | 8 | |
| Agility: | 5 | |
| Toughness: | 8 | |
| Mind: | 4 | |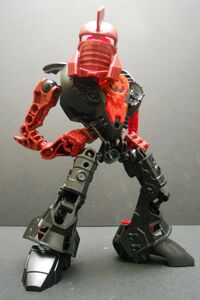 "Scottie, when will you learn? There's a reason why nice guys finish last... it's me.'"
―Tom Knight to Scott Trooper during a training dual.
Scott Trooper has often felt that he is in the shadow of Tom Knight as he became inactive before he could complete the rookie's training.
Knight's personality was based off of one of User:BobTheDoctor27's characters from his fanon BIONICLE storyline, Toa Tollubo, a tragic and corrupted hero.