Hi, I'm
OonieCacola
, or
Oonie
for short (or even
Boost
if you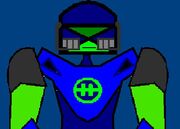 want my HF name).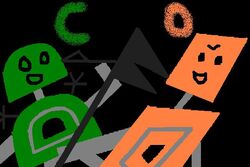 I make MOCs every once and a while, but what I really like is giving them personality, that's why I'm here!
Nick Boost
was my first Hero Factory creation, and I have made plenty more ever since. Just so you know, I'm not the most complex MOC-maker, or even the most creative. I like to keep it simple, and whether or not it's the best looking or not, I do what I like! I hope to start a few stories about my character's adventures and more. My first story, currently a work in progress, is called
Mission: The Ice Planet
, and I hope it will entertain readers as it is written up.
I am also open to suggestions and support, so help is appreciated wherever, whenever!
I think Hero Factory is pretty cool, although it's not like Bionicle, I consider it to be just the next chapter, in a different universe not so far off.
In real life I'm just another random guy that still loves lego. My other interests include...well I'd rather not say, but I do like the t.v. show: The Walking Dead, and movies like Iron Man, Tron, and Indiana Jones. Other than contributing here, I also make MOC videos on youtube, check them out!
My Creations
Edit
To Be Posted:
Edit
New updated heroes
Kryone
Chase Nitro
Ben Grace
Trip Zapzik
Roboxix
Favorites sets
Edit
Bulk (first hero I got, but also love the silver)
Evo (awesome colors and personality)
Witch Doctor (love his evil laugh :-P)
Splitface (we act so much alike!)
Core Hunter (hunts cores, 'nuff said)
Signatures
Edit
My signatures for this fine wiki, as well as all others i'm on.
I am the user: OonieandCacola on YouTube
Boost was my first official Hero Factory MOC
Toa Oonie was my very first MOC ever, check him out on CustomBionicleWiki
Most of my MOCs are heroes because of my lack of creativity (and parts)
If anyone is still reading this and wondering, yes I am a computer addict -_-
Not to boast, but I once went 74 days editing this wiki non-stop
I won the first CHFW fanfic contest
I reached 1000 total edits on 9/15/2012
My buddy Bionic-Force Factory (aka the real Cacola) is also here