Hellooo! I am Wikishmid and this is my CHFW (Custom Hero Factory Wiki) page! I don't make many pages anymore, but I'll be there to help anyone out! If you have a question on anything other than how the forums work or wikitext, leave a message on my talk page. Otherwise, ask our expert on that, 21bub21(bub).
How I came to be here
Edit
I made my first HF MOC, Max Power, for the Hero Factory challenge in the Nov-Dec 2010 Lego Magazine and, after playing around with him for a while, built two more heroes, Thomas Dox and Henry Barix. Later, already knowing about the existence of CBW, I looked to see if there was a Custom Hero Factory Wiki, and there was! Now, they and their story have been abandoned.
Other Stuff/Badges
Edit

Homemade forum banner: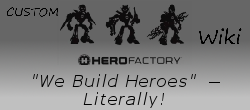 PM me for the BBCode on WMF as the spam filter won't let me use a URL tag. :- (
--Wiki On! Wikishmid