Hi we should make differant teams of custom made HF members all part of every ones team upload photos store information and everything else thanx
Hi there!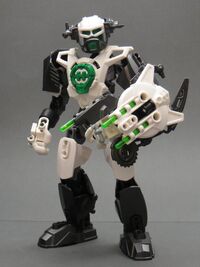 Welcome to Custom Hero Factory Wiki, and thank you for your contributions! We hope you enjoy your time here and continue to post great creations!
First, however, you'll need to read the Rules.
Recent changes is a great stop, because you can see what pages other people have been editing, and where you can help.
Customize! This is a custom wiki, meaning you can create almost anything you want! The users here create a fantastic world full of their own characters and stories! Don't be afraid to make an article for that awesome Hero Factory MOC you have on your shelf!
The Rules. Even though this is a custom wiki, we still want to make sure the whole place looks organized! A reminder, be sure to check out the Rules so you know exactly how to set up your article to best fit the wiki!
Vote! Something else you can do is check out our Voting Center! There, you can nominate and vote for your favorite article, image, and quote! The items with the most votes at the end of each month will be featured on the Main Page! If you work hard, and do a good job, you might even make User of the Month!
Write! We have a special page for stories about the HF universe you will create! Simply go here.
Community One last thing you can check out is Wiki Metru Forums. It's a growing community of users from several wikis like this, where users talk, play games, write stories, and just have fun!
Questions? You can ask at the Help desk or on the "discussion" page associated with each article, or post a message on An Admin's Talk Page.
Need more help? The Community Portal has an outline of the site and links to pages to help you learn how to edit.
Please sign in every time you edit, so that we can recognise an established user.
I'm really happy to have you here, and look forward to protecting you as you create your world!

Lord Starscream 15:56, October 9, 2011 (UTC)
Welcome to Custom Hero Factory! USeful links around here can be found in the large welcome message above. I also saw your latest article, and I did some clean-up work with that. So, I hope you enjoy Custom Hero Factory Wiki (CHFW for short)!
Any questions, just ask me.
McF4rtson!!! TwinkieCraft Server and Wiki! Talk page=Client! 08:49, July 29, 2012 (UTC)
Can you tell me the name of the page? Thanks.
Have you read the Manual of Style yet? If not, DO IT NAOW. Wikishmid 08:38, August 1, 2012 (UTC)