Wasp Green
Talk

2
1,149pages on
this wiki
Wasp Green
Hero
Affiliation
The Syndicate (Formerly)
Dart Team
Weapons
Wrist Daggers, Shooter, Edged Sword (Formerly), Dual-blade
Status
Alive
Location
Makuhero City

Wasp is a mutated Waspix, the adopted sister of Crystal and the only non-Hero member of Dart Team.
Biography
Early Life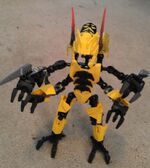 Wasp worked with The Syndicate
Dart Team
After Crystal was kidnapped by The Syndicate, Gary tried to save her, but was ultimatly transformed into Nery Sureshot, a cold heartless killer, who was after Heroes. After convincing Wasp to leave, Wasp help break Crystal out, since Gary was a killer who was after Heroes, they decided to make Wasp a Hero, giving her a fake Hero Core to trick him, eventually Nery was subdued by Dart Team, but he was able to escape, the team, now assisted by Vody, went to The Syndicate's hideout, and brought Nery back.
Abilities and Traits
As a Waspix, her mentality was described as unstable.She is apparently very strong, as she was able to hold Crystal while flying. She is also known to be extremely powerful if enraged, as she was able to singlehandedly do a number on members of The Syndicate, and Gary.
Tools
Wasp uses Wrist Daggers, a Shooter, and an Edged Sword. She also has a stinger which she doesn't use on others. She later inhereted Crystal's Dual-blade.
Appearances
See Also